GRATIS Levering.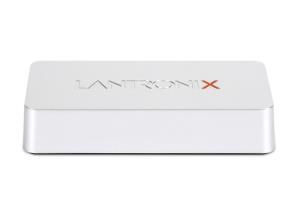 LANTRONIX Xprintserver Office Edition Apple Airprint Google Cloudprint
Voor persoonlijke hulp of snellere levering
+32 2 558 30 00
Designed for Android™ & Chrome OS™

The Lantronix xPrintServer Cloud Print Edition print server makes USB and network printers Google Cloud Print ready. It enables instant wireless printing of photos, email, web pages and documents from Google Cloud Print enabled Android phones and tablets, Kindle Fire Chrome OS devices like Chromebook computers, as well as Google's Chrome™ browser on PCs. It eliminates the need to use complicated apps, or email yourself items to print. And more importantly, you don't need to buy a new printer!

Why the Lantronix xPrintServer Cloud Print Edition?

- IMG_xps-cloudprint-portsPrint to virtually any printer – no need to buy new printers
- Easy to use / automatic discovery and set up of printers
- Print from your phone, tablet, Chromebook, & PC
- Compatible with top brand printers (network & USB)
- USB printer(s) can be shared over your network*
- Administrative & security settings via web interface
- Print from remote location to your printers
- Google Cloud Print ready

Set-Up is Automatic & Quick!

Simply plug the Lantronix xPrintserver into your network (router, switch or LAN with wireless access point), then plug your USB printer(s) into the Lantronix xPrintServer. Within seconds the xPrintServer will auto-discover your network and USB printers. Then simply link the xPrintServer to your Google account to begin printing!

Unlimited Number of Android & Chrome OS Devices, Unlimited Number of Printers!

That's right. One xPrintServer unit supports a virtually unlimited number of users, as well as a virtually unlimited number of printers simultaneously. With the xPrintServer from Lantronix, your mobile workforce will be printing in minutes.

General Compatibility & Requirements

- Chrome OS™ / Android™ 2.3.3 or greater / Fire OS
- Mac OS X v10.7 or later, Windows XP and Windows 7 are supported for printing to USB printers via xPrintServer.
- Printer compatibility: Most major brand USB, network and wireless printers.
- The xPrintServer Cloud Print Edition requires an Internet connection for set-up and for printing functionality.
Specs
Ethernet LAN, data-overdrachtsnelheden
10,100 Mbit/s
Aantal Ethernet LAN (RJ-45)-poorten
1
Aansluiting voor netstroomadapter
AC-adapter, uitgangsspanning
5 V
Windows 7 Enterprise, Windows 7 Enterprise x64, Windows 7 Home Basic, Windows 7 Home Basic x64, Windows 7 Home Premium, Windows 7 Home Premium x64, Windows 7 Professional, Windows 7 Professional x64, Windows 7 Starter, Windows 7 Starter x64, Windows 7 Ultimate, Windows 7 Ultimate x64, Windows XP Home, Windows XP Home x64, Windows XP Professional, Windows XP Professional x64
Ondersteunt Mac-besturingssysteem
Mac OS X 10.7 Lion, Mac OS X 10.8 Mountain Lion, Mac OS X 10.9 Mavericks
FCC, ICES-003, VCCI V-3/2010.04, AS/NZS CISPR 22, UL/EN 60950-1
Relatieve vochtigheid in bedrijf (V-V)
0 - 40 procent
Bedrijfstemperatuur, bereik
32 - 131 °F
Vergelijkbare producten
}
);