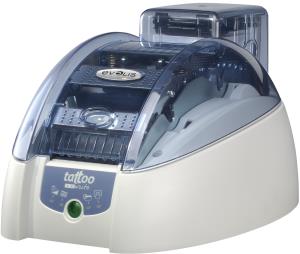 EVOLIS Tattoo2 RW Mag ISO - card printer - Dye Sublimation - ISO 7810 - USB / Ethernet
Voor persoonlijke hulp of snellere levering
+32 2 558 30 00
The next-generation printer for rewritable cards
Tattoo RW is an Evolis card printer for single-sided rewritable cards. It effortlessly matches all your expectations when it comes to flexibility, affordability, sustainable development, and regular data updates.
The ideal solution to issue rewritable cards:
- Visitor' details on an access control badge;
- Transit passes, travel cards;
- Passes for ski and holiday resorts;
- Student IDs;
- Membership cards with subscription details.
- Loyalty cards with the updated number of points, as well as applicable special offers.
With Tattoo RW, your cards are updated whenever required, while a same card can be erased, revised and printed anew up to 500 times.
Benefits
Flexibility
You can deliver a new card anytime it is required! The erase/write cycle is extremely fast and you can erase, encode, and reprint new data in a matter of seconds.
A cost-efficient solution
This revolutionary rewritable technology requires no ribbon, which translates into valuable savings. No need to throw away your cards each time you need an update: erase and reprint only updated data on your existing card!
Environmental-friendly
Tattoo RW adheres to sustainable development. It uses rewritable cards and requires no ribbon: Tattoo RW helps you reduce your environmental footprint.
Data updates
Now with Tattoo RW, data encoded on magnetic stripes or on contactless chips can also be displayed and updated on the card surface. For example, loyalty points can be printed on a card and updated at each checkout.
How does it work?
Tattoo RW is a ribbon-free printer that uses rewritable cards. Such cards contain a thermochromatic material that turns visible, or vanishes, according to the applied temperature.
This reversible process makes it possible to erase and print on the same card up to 500 times.
Your card turns into a powerful medium that displays temporary or updatable data such as bonus points and special offers on a loyalty card, or the name and relevant details of visitors on a corporate badge.
Tattoo RW Main specifications:
- Single-sided printing;
- Rewritable Technology (up to 500 times);
- Monochrome printing;
- Print cycle : 8 seconds;
- Encoding options : magnetic stripes, contactless smart cards;
- Compatible with Windows 7 (32 and 64-bit), XP and Vista (32 and 64-bit)
- 2 years (printer and print head), limited to 15000 inserted cards (Subject to observance of specific conditions and use of Evolis genuine consumables).
High performance and versalite
Sustain your cards on a daily basis and in the long-term. Thanks to Tattoo RW, the card becomes a reusable medium and a dynamic means of communication. Tattoo RW allows you to have the information on your cards, whether printed or encoded evolve in a few seconds. The available options and settings allow it to adapt to the majority of people!
Cological and cost-effective
An initial investment offered at its lowest price, adapted applications and a rich and competitive card offer. Tattoo perfectly responds to the needs and expectations of those who wish to lower the cost per card to a minimum and who are looking for a solution concerned with the environment.
Compact and ergonomic
Thanks to its design, Tattoo RW finds its place in all types of environment. It is particularly adapted to receptions where it wil instantly personalise loyalty cards, visitor badges or bus/train tickets.
Reliable and resistant
Tattoo RW benefits from Evolis know-how and quality standards.
Specs
Print snelheid (monochroom)
300 card/h
Code geharmoniseerd systeem (HS)
84433210
Compatibele besturingssystemen
Windows 7 (32 & 64 bits), XP, Vista (32 & 64 bits)
Related products
}
);