MICROSOFT Windows 98 Oem - 1 Users - Win - Dutch
GRATIS Levering bij bestelling van meer dan € 100 zbtw.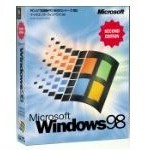 MICROSOFT Windows 98 Oem - 1 Users - Win - Dutch
Voor persoonlijke hulp of snellere levering
+32 2 558 30 00
The Microsoft Windows 98 operating system is the upgrade to Windows that makes your computer work better and play better. It works better by making it simple to access the Internet and by providing better system performance along with easier system diagnostics and maintenance. With Windows 98, your system plays better as well with support for the latest graphics, sound, and multimedia technologies, the ability to easily add and remove peripheral devices with support for Universal Serial Bus (USB), and it also enables you to watch TV on your PC. Windows 98 Second Edition is an update to Windows 98 that enhances the leading consumer operating system with the latest Internet, home-networking and hardware technologies.

Windows 98 Second Edition offers consumers a variety of new and enhanced capabilities related to the Internet, and hardware compatibility:

Internet Explorer 5. Microsoft's popular browsing technologies provide breakthroughs in Web performance, usability and flexibility.

Windows NetMeeting 3. The latest version of NetMeeting brings Internet conferencing capability to consumers by offering enhanced usability, performance, security and support for Internet standards.

Internet Connection Sharing (ICS). ICS is a set of advanced home networking technologies that enable users to share a single connection to the Internet for simultaneous Internet access.

Enhanced hardware support. Windows 98 Second Edition offers improved native support for technologies such as Universal Serial Bus (USB), IEEE 1394 and ACPI as well as broadband network connections, enabling consumers to connect to and more easily use a wider range of devices.

Benefits

Improved Ease of Use & Internet Access
Dynamic Web-based help and 15 Wizards help make your PC easier to use. Windows 98's Web-aware user interface lets you find information more easily with the same view of content on your PC, network, or the Web. Windows 98 Second Edition now provides Internet Connection Sharing, allowing users to share a single Internet connection over multiple networked PC's.

Improved Performance & Reliability
Reduce the time it takes to launch applications, get help cleaning your hard disk and improve its efficiency. This is all possible with improvements that make Windows 98 a more robust and reliable operating system.

Enables a New Generation of Hardware & Entertainment
Take advantage of the latest hardware advances, like the USB, DVD, and IEEE 1394, and expand the use of your PC with multiple monitor and digital imaging support and Microsoft WebTV for Windows.

What's New



| | |
| --- | --- |
| Internet and Multimedia Enhancements | With updated versions of Internet Explorer, Outlook Express, Windows Media Player, and DirectX, your PC will deliver an even better on-line and multimedia experience. |
| System Updates | Windows 98 Second Edition has all the latest system updates to improve the performance of your PC, including Year 2000 Updates, improved hardware and software support, enhanced USB support, and more. |
| Internet Connection Sharing | With Internet Connection Sharing, Windows 98 Second Edition allows you to share a single internet connection over multiple networked PC's. |



Notes



FAT32 and FAT32 Conversion Utility
This improved version of the FAT file system helps give you more hard drive space (28% on average) by more efficiently using space on large disks. A graphical conversion utility lets you quickly and safely convert a hard drive to FAT32.


Performance Enhancements
With Windows 98 you will do less waiting. Specifically, Windows 98 can shut down and launch applications faster than Windows 95. You can also boot your system faster with new ACPI machines that have fast-boot BIOS support.


Windows Update -- Includes the Update Manager
The Windows Update Web Site, the on-line extension to Windows 98, is a Web-based resource site. It gives registered Windows 98 users easy access to the latest drivers and operating system files, along with product assistance.


HTML-Based Online Help
To assist users in finding the latest "help" information, Windows 98 includes an HTML-based on-line help system. In addition to the improved "Help" information built into the Operating System, the Help tool in Windows 98 is extensible- dynamically taking you on-line to the latest information about the topic at hand.


15 Troubleshooting Wizards
These Troubleshooting Wizards can help you quickly diagnose and solve technical problems with Windows 98. Troubleshooters are scenario-based walkthroughs that you can customize to a situation by choosing the answer that fits your issue.


Windows Maintenance Wizard
Schedules tune-up jobs to run automatically, making your PC more self-maintainable. It helps you delete unnecessary files and makes sure your hard disk is optimized and properly functioning. Includes Disk Defragmenter, ScanDisk, and Disk Cleanup features.


System File Checker Utility
System File Checker keeps track of critical system files that make your computer run. If these files are moved or changed, it provides an easy way to restore these files. Once file changes are detected, it offers you several courses of action. The System File Checker Utility allows you to troubleshoot problems and become productive again much more quickly and easily.


Support for New Generation of Hardware
You can now take advantage of the recent innovations in computer hardware. Major hardware standards supported: Universal Serial Bus (USB), IEEE 1394, Accelerated Graphics Port (AGP), Advanced Configuration and Power Interface (ACPI), and DVD.


Multiple Display Support
Now you can use multiple monitors and/or multiple graphics adapters on a single PC. Displaying your work environment on multiple monitors can let you "spread out" and interact more easily between documents and applications.


DirectX 6
Adds depth to multimedia and gaming experiences by increasing the realism and quality by providing better imaging, built-in support for Accelerated Graphics Port (AGP) and MMX technologies. Also supports force-feedback controllers.


Microsoft WebTV for Windows
With a TV tuner card, your PC can act as a receiver of broadcast information. You can use your PC to find and watch TV programs, view interactive TV programs that provide supplemental information about shows, and receive other information.


New Backup Utility
This new backup applet supports SCSI tape devices and makes backing up your data easier and faster.


Web-Aware User Interface
With Windows 98, Internet access becomes a seamless part of the user interface. Windows 98 provides you with one utility to universally view local, network, intranet, and Internet data, so you can get to the information you need faster and more easily.


Suite of Tools for Internet Communication
Includes: Outlook Express, an e-mail and news reading client; Microsoft NetMeeting, Internet conferencing; Personal Web Server, an easy way to publish Web pages; Windows Media Player, streaming multimedia services, and more.


Internet Connection Wizard
The Internet Connection Wizard is designed to make a first time connection to the Internet simple. It gives you a list of National ISPs to choose from, then the Wizard will do all of the software configuration for you.


Built-in Support for the Infrared Specification
Supports the Infrared Data Association (IrDA) standard for wireless connectivity with a driver set that provides infrared-equipped computers with the capability of networking, transferring files, and printing wirelessly with compatible infrared devices.


Dial-Up Networking Improvements
Supports Dial-Up Scripting that can automate the process of connecting to bulletin boards and online services. It also includes Dial-Up Networking user interface enhancements that simplify setting up and using dial-up connections.


Multilink Channel Aggregation
Support for Multilink Channel Aggregation enables you to combine available dial-up lines to achieve higher transfer speeds when dialing into the Internet or network. For example, you can combine two or more ISDN lines to achieve speeds of up to 128K.


Client Support for Virtual Private Networking
Virtual Private Networking is new networking support for remote users to access their corporate network via a secure connection. It utilizes the Point-to-Point Tunneling Protocol (PPTP). Support for this service is natively built-in to Windows 98.



Improved Features

Internet and Multimedia Enhancements
With updated versions of Internet Explorer, Outlook Express, Windows Media Player, and DirectX, your PC will deliver an even better on-line and multimedia experience.


Online Services Folder
The Windows 98 desktop contains an Online Services Folder with links to America Online (AOL), AT&T WorldNet, CompuServe 3.0, and Prodigy. When you click the link to an Internet Service Provider, a setup program starts and automatically registers you.


Smooth Setup Experience
Several enhancements have been made to the Windows 98 setup program in an effort to decrease setup time and increase setup reliability. For example, the setup interface shows you how far along you are with the setup process.


Power Management Improvements
Built-in support for Advanced Configuration and Power Interface (ACPI) lets you switch on or off your PC like you would your TV set. In addition, Windows 98 supports Advanced Power Management (APM) 1.2 extensions for more power management improvements.


Windows Scripting Host
Allows you to save time by automating actions such as creating a shortcut and connecting to or disconnecting from a network server. This is possible with Windows 98 support for direct script execution from the user interface or command line.


New Accessibility Tools
The Accessibility Configuration Wizard helps people adapt Windows' options to their needs and preferences and the low-end screen magnifier helps people with moderate vision impairments and those working on unfamiliar machines.


Support for Intel MMX Processors
Provides support for third parties to build software that takes advantage of the Intel Pentium Multimedia Extensions (MMX) for fast audio and video support on the next generation of Intel Pentium processor.


System Configuration Utility
This utility allows you to troubleshoot system configuration issues through a process of elimination with check boxes. It also allows you to create and restore back ups of configuration files. This utility is the graphical replacement for Sysedit.


Win32 Drive Model (WDM)
This new, unified driver model for Windows 98 and Windows NT enables new devices to have a single driver for both operating systems. It allows Windows 98 to maintain full legacy device driver support while adding support for new WDM drivers.


Automatic Skip Driver Agent (ASD)
Automatic Skip Driver Agent (ASD) identifies hardware devices that fail to respond; displays a dialog box indicating that it has detected a failure; prompts you with the option to bypass this action on subsequent startups.


New Dr. Watson Utility
If this utility is enabled, it will intercept software faults and indicate what software has faulted and why. It also collects detailed information about your system at the time of the fault and logs this information for reference later.


Display Setting Enhancements
Provides support for dynamically changing screen resolution and color depth. Enhancements include: full window drag, font smoothing, wallpaper stretching, large icons, hi-color icons, and more.


PCMCIA Enhancements
Supports: PC Card32 (Cardbus)--enables notebooks to implement high-bandwidth apps; PC Cards operating at 3.3 Volts--lets hardware manufacturers make lower power consumption devices; and Multifunction PC Cards--two or more functions on a single PC Card.


Distributed Component Object Model (DCOM)
Allows software developers to create component applications. Distributed COM (DCOM) in Windows 98 provides the infrastructure that allows DCOM applications to communicate across networks without requiring software developers to redevelop applications.


Client Support for NetWare Directory Services
Supports Novell NetWare Directory Services (NDS) and enables you to log on to Novell NetWare 4.x servers running NDS to access files and print resources. Provides key features that Novell users need.




System Requirements



Computer/Processor
486DX/66 MHz or higher processor
Memory
24 MB RAM; more memory improves performance
Hard Disk
Typical installation requires approximately 205 MB of available hard-disk space (includes 45 MB average for backup files during installation), but may range between 140 MB and 315 MB, depending upon system configuration and options selected
Drive
CD-ROM or DVD-ROM Drive
Display
VGA or higher resolution monitor
Peripherals
Microsoft Mouse or compatible pointing device
Miscellaneous
Additional items or services required to use certain features:

14,400 or higher-baud modem or fax modem required for internet access

Access to the internet through a service provider (a separate fee may be required)

For sound:
-Sound card with speakers or headphones, OR
-USB speakers (requires PC with USB support)

For DVD Video:
-DVD ROM Drive
-Compatible DVD decoder card or DVD decoder software

For Broadcast TV and Web reception:
-Compatible TV tuner card
-Pentium or higher processor
-Additional 65 MB of hard-disk space
-Reception depends on availability of broadcast sources in your area

For Internet Connection Sharing:
-Network connection between the connection host computer and other computer devices sharing internet access
Windows 98 Second Edition Full Version
Computer/Processor
486DX/66 MHz or higher processor
Memory
24mb of RAM; more memory improves performance
Hard Disk
-When using FAT16 File system, typical installation requires 260 MB of available hard-disk space, but may range between 210 MB and 400 MB, depending upon system configuration and options selected
-When using FAT32 File system, typical installation requires 210 MB of available hard-disk space, but may range between 190 MB and 305 MB, depending upon system configuraiton and options selected
Drive
CD-ROM or DVD-ROM Drive
Display
VGA or higher resolution monitor
Peripherals
Microsoft Mouse or compatible pointing device
Miscellaneous
Additional items or services required to use certain features:

14,400 or higher-baud modem or fax modem required for internet access

Access to the internet through a service provider (a separate fee may be required)

For sound:
-Sound card with speakers or headphones, OR
-USB speakers (requires PC with USB support)

For DVD Video:
-DVD ROM Drive
-Compatible DVD decoder card or DVD decoder software

For Broadcast TV and Web reception:
-Compatible TV tuner card
-Pentium or higher processor
-Additional 65 MB of hard-disk space
-Reception depends on availability of broadcast sources in your area

For Internet Connection Sharing:
-Network connection between the connection host computer and other computer devices sharing internet access



Related products
}
);