GRATIS Levering bij bestelling van meer dan € 100 zbtw.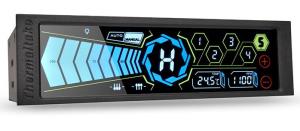 THERMALTAKE Tt Commander FT fan control
Voor persoonlijke hulp of snellere levering
+32 2 558 30 00
Commander FT – Touchscreen Fan Controller
The Commander FT is Thermaltake's first-ever touchscreen fan controller, allowing you to monitor and control the fan speed and system temperature of five fans at one time! The expansive 5.5" touchscreen—one of the largest available—makes interacting with it easy, and the auto, manual, performance, and silent operating modes give you comprehensive control of fan cooling performance. All you need is an empty 5.25" driver bay and you're ready to go.
5.5" Remarkable Touchscreen
With the Commander FT's extraordinarily large 5.5" touch panel and gorgeous layout, on-the-fly cooling control and noise adjustments have never been easier.
Auto and Manual Mode
The Commander FT's Auto mode is intelligently tuned to automatically adjust all fans based on thermal sensor temperature readings. Manual mode is completely customizable, allowing for individual fan speed adjustments; user settings will be memorized and maintained even after reboot.
Performance and Silent Mode
Two adjustments arrows at the bottom left are performance and silent mode. The performance mode is tuned for best cooling performance, automatically adjusts all fans to its fastest speed and provides the ultimate airflow in seconds.
Intuitive Fan Speed Slider
The fan speed slider offers complete fan control through a user-friendly interface.
Channel Selector
The Commander FT supports up to five independent fans, with each channel delivering up to 10W to drive all types of fan efficiently. Tap from '1' to '5' on the central fan display to easily adjust fan speeds independently .
Thermal Monitoring
The Commander FT helps you keep an eye on temperature, showing you information down to the selected fan speed (RPM). Choose Celsius or Fahrenheit, according to your preferences. Additionally, the embedded temperature warning alarm can be set.
Comprehensive Control of Fan Cooling and Noise
Support up to five independent fans, each channel delivers up to 10W to drive any type of fans efficiently. Commander FT makes it easier for users to make adjustments on cooling control and minimize the noise as well.
Easy Installation
The Commander FT comes with all necessary cables to connect up to five fans with standard 3-pin or PWM connector. All you need is an empty 5.25" drive bay and you're ready to go!
Vergelijkbare producten
}
);