FREE Shipping.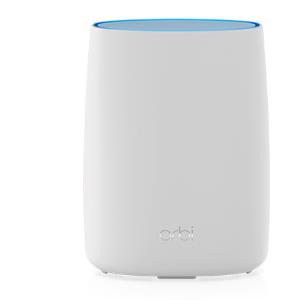 NETGEAR LBR20 - Orbi 4G LTE Wi-Fi Router AC2200
For personal help or faster delivery
+32 2 558 30 00
Orbi 4G LTE Tri-band WiFi Router
Sleek, modern design with up to 2,000 sq ft. of coverage. The integrated cellular modem is compatible with Orbi AC Satellites to create a mesh WiFi system, supporting seamless 4K streaming and gaming anywhere in your home.

Add SIM Card. Super-fast WiFi.
With a cellular modem integrated, the Orbi 4G LTE WiFi Router works with a SIM card from most major 4G LTE cellular network providers. It's the perfect solution when you don't have access to traditional fixed line Internet Service Providers like cable, fiber or DSL.

Always On WiFi.
When your main source of Internet service to your home or small business is Fibre, DSL or cable Internet, disruptions can happen that result in lost service . Orbi™ 4G LTE WiFi Router can ensure 3G/4G LTE as a reliable failover and backup Internet source so your Internet will always be up and running.

Expandable Coverage
This WiFi router with built-in cable modem covers up to 2,000 sq. ft. with high-performance WiFi. Stream or game anywhere with seamless connectivity throughout your home.
Easily expand WiFi coverage with add-on Orbi Satellites (sold separately).
Specs
3G/4G USB modem compatibility
Dual-band (2.4 GHz / 5 GHz)
WLAN data transfer rate (max)
2200 Mbit/s
802.11a, 802.11b, 802.11g, Wi-Fi 4 (802.11n), Wi-Fi 5 (802.11ac)
Ethernet LAN interface type
Gigabit Ethernet
IEEE 802.11a, IEEE 802.11ac, IEEE 802.11b, IEEE 802.11g, IEEE 802.11i, IEEE 802.11n
Mobile network generation
4G
Ethernet LAN (RJ-45) ports
2
Number of products included
1 pc(s)
Harmonized System (HS) code
85176990
Similar Products