IRIS Readiris Pro (v9.0) - Win
FREE Shipping on orders over
€ 100 Ex VAT.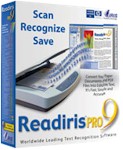 IRIS Readiris Pro (v9.0) - Win
For personal help or faster delivery
+32 2 558 30 00
Readiris Pro 9 is a powerful productivity tool for flatbed scanners, "all-in-one" devices and digital cameras.
Save time and eliminate your manual encoding tasks!
Readiris Pro is ideal for private and professional users as well as for companies who need to convert small and large volumes of documents into digital information. Scan any paper documents, open any image or PDF files and Readiris Pro 9 retypes them and recreates the original layout with unprecedented speed and OCR accuracy.
Select the output format of your choice: Readiris Pro allows you to easily archive and share the relevant information you need!
Features




User Interface : Very intuitive, the user interface invites you to recognize your documents in two easy steps: 1. Acquisition - 2. Recognition.
Unbeatable Speed and Accuracy : Readiris Pro 9 retypes your text and tables in seconds and with unprecedented accuracy.
Powerful Page Analysis : As soon as your document is scanned, Readiris Pro identifies and sorts the text, table and image zones.
High-Quality Display of the Document Image : Readiris Pro displays your document image with a very high sharpness for optimal on-screen legibility.
Easy Handling of Multipage Documents : Change the page sequence with a simple drag-and-drop. Right-click on the documents you need to recognize to select them and quickly generate one output file per page.
The Multilingual OCR Software : Recognizes up to 107 foreign languages and offers 7 user interface languages (English, French, German, Spanish, Italian, Dutch, Portuguese-Brazilian).
Recognized languages: American English, British English, Afrikaans, Albanian, Aymara, Balinese, Basque, Bemba, Bikol, Bislama, Brazilian, Breton, Bulgarian, Byelorussian, Catalan, Cebuano, Chamorro, Corsican, Croatian, Czech, Danish, Dutch, Esperanto, Estonian, Faroese, Fijian, Finnish, French, Frisian, Friulian, Galician, Ganda, German, Greek, Greenlandic, Haitian (Creole), Hani, Hiligaynon, Hungarian, Icelandic, Ido, Ilocano, Indonesian, Interlingua, Irish (Gaelic), Italian, Javanese, Kapampangan, Kicongo, Kinyarwanda, Kurdish, Latin, Latvian, Lithuanian, Luxemburgh, Macedonian, Madurese, Malagasy, Malay, Maltese, Manx (Gaelic), Maori, Mayan, Minangkabau, Nahuatl, Norwegian, Numeric, Nyanja, Nynorsk, Occitan, Pidgin English, Polish, Portuguese, Quechua, Rhaeto-Roman, Romanian, Rundi, Russian, Samoan, Sardinian, Scottish (Gaelic), Serbian, Serbian (Latin), Shona, Slovak, Slovenian, Somali, Sotho, Spanish, Sundanese, Swahili, Swedish, Tagalog, Tahitian, Tok Pisin, Tonga, Tswana, Turkish, Ukrainian, Waray, Wolof, Xhosa, Zapotec, Zulu, Bulgarian - English, Byelorussian - English, Greek - English, Macedonian - English, Russian - English, Serbian - English, Ukrainian - English, Hebrew (optional), Simplified Chinese (optional), Traditional Chinese (optional), Japanese (optional), Korean (optional).
Enhanced Autoformat Technology : I.R.I.S.' powerful Autoformat Technology replaces text blocks, tables and graphics in the same place maintaining the document layout.
Flowing Text Mode for Easier Editing : Easily edit the recognized text: while you modify the content of the document, the text naturally "flows" from one column to the next.
Impressive List of Output Formats : Automatically send the recognized information into your favorite application (Microsoft Word, Microsoft Excel, Adobe Acrobat, Microsoft Internet Explorer, Netscape, Corel WordPerfect, Sun StarOffice) or save it as an external file.
One-Click Transfer to Your Clipboard : Instantly send a text zone to your clipboard. It's very useful for small portions of text, now directly available in any application.
Printing Function of the Scanned Images : Get a complete overview of your scanned documents. Print up to 64 document thumbnails on one page.
Recognition of Symbols (©, ®, ¢ etc.) : Additional symbols are now recognized, giving you maximum recognition accuracy for your professional documents.

System Requirements

An Intel Pentium based PC or equivalent is recommended.
32 MB RAM. 64 MB RAM is recommended to process grayscale and color images.
110 MB free disk space.
The Windows XP, Windows ME, 2000, 98,NT 4.0 operating system

Specifications

User interface languages : English, Dutch, French, German, Italian, Spanish and Portuguese-Brazilian
Supported scanners : Acer, Agfa, Black Widow, Brother, Canon, Compaq, Epson, Escom, Fujitsu, Genius, HP, Kodak, Lexmark, Logitech, Microtek, Mustek, Niscan, Primax, Ricoh, Silitek, Tamarack, Umax, Visioneer, Xerox, Yellow Dragon etc. and all Twain compliant devices.
Supported Digital Cameras : Canon, Casio, Fuji, HP, Kodak - All TIFF and JPEG formats generated by digital cameras are recognized.
Related products
}
);